While it may seem that we here at Pixels or Death are overflowing with negativity, this is not at all the case. The truth is, we do like things. Sometimes, we like things a lot. Supergiant Games' Summer of Arcade leadoff hit Bastion is definitely one of those things.
Questions from Patrick Lindsey of our partner site: Pixels or Death

You may remember not too long ago we published our impressions of the game, where we made our high opinions very apparent – it's clear that Bastion redefines what arcade titles are capable of in terms of narrative and emotional impact. We recently had the opportunity to speak with Greg Kasavin, creative designer and writer for Bastion over at Supergiant Games. We picked his brain for insight into the creative process that spawned such a unique title, and were fortunate to receive some very insightful commentary in his reply, which you can read after the jump!

POD: The action RPG genre has seen a ton of recent entries. What made you decide to go with an action RPG for Bastion? As a small studio, how did you plan to set yourselves apart to avoid getting lost in the hack'n'slash shuffle?
KASAVIN: While the action RPG genre is certainly popular, we still felt and continue to feel that it's underexplored, at least relative to other popular genres like shooters or platformers. Regardless, it's a style of game we love a lot as a team, and we came from having worked on real-time strategy games, so it represented a refreshing change of pace. One of the opportunities we saw as we were getting into making downloadable games is that not many of them attempt much in the way of story. We wanted to do something interesting with the narrative, using methods only possible through the medium of games. We didn't worry much about being too close to other games because we don't do design-by-genre or use any one or two or five games as reference points. Even in the context of an action RPG structure, we did not take a single design choice for granted. Our process is about coming up with a rich and interesting thematic core and an idea for the feel of the play experience, then gradually working our way towards that bit by bit until the game feels complete. This type of approach I think has a good likelihood of producing results that feel specific rather than derivative or cliché.

POD: Bastion is, visually speaking, a very beautiful game, yet the story of Caelondia and the Calamity has very melancholy undertones. What motivated such a striking contrast between the game's vibrant visuals and its somber storyline and emotional themes?
KASAVIN: This contrast you describe was very intentional and appealing from a creative standpoint.
On a surface, we wanted to make a game that was very easy to pick up and start playing, which I think has implications on both the gameplay as well as the presentation. Beyond that, though, we wanted a game with some emotional depth to it, which could sink its hooks into players and hopefully get them to really care about what was happening. In short, we wanted to make a game that was more than just fun to play. With any luck, the experience would stick with people in a positive way long after they finished playing.
For me as the story writer, I sometimes looked at it like a modern version of a traditional fairy tale. Ever read the original version of The Little Mermaid for example? Stories like that often had a darkness to them and dealt with serious themes, yet in lush and fantastical settings. I was also drawn to creating the type of story that could resonate with people of all ages, one that contained plenty of high adventure but also a sense of humanity to it.
When I was a kid, I got into the Ultima series of role-playing games, which were these fantastic moral tales filled with action as well as meaningful characters and situations. Bastion is nothing much like Ultima but those games are a big spiritual influence for me.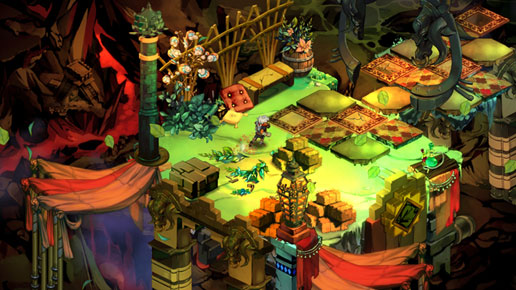 POD: Bastion has a very distinct aesthetic to it – occasionally while playing I was reminded of Joss Whedon's Firefly (this is a good thing – Firefly rocks). What were some of your influences in creating Bastion's look and feel? How did you come to settle on the aesthetic that you did, rather than the traditional fantasy RPG setting?
KASAVIN: One of the main tonal influences on the game is the work of the American novelist Cormac McCarthy, who's written books like The Road, and All the Pretty Horses, and No Country for Old Men. His writing often has this minimalist, Old West feel, where incredible beauty and savage violence can take place practically on the same page. We wondered what that sort of tone would feel like in a game, though we wanted to extract all the evil out of it, since games deal with evil all the time. The tone we were going for was more hopeful, though there's still a melancholy there for sure. We liked the idea of a fantasy-frontier type of setting. We wanted the world to have traces of colonial America, to have a bit of familiarity there, but never to cross that boundary where it seemed like allegory. The world of the game was intended to feel comforting but exotic as well.
Visually, we knew we wanted to make a 2D game and weren't at all interested in pursuing a realistic look. We wanted a fantastical, mysterious world filled with expressive characters. We finally found our style when Jen Zee joined the team about six months into the project. She was able to create a look that gave us everything we wanted.

POD: One of the most interesting and unique things about Bastion is the Narrator, voiced by Logan Cunningham. Was this something you were always planning on including in the game, or did it develop later on? What ultimately gave you the idea, and what, if any greater thematic symbolism does the Narrator have?
KASAVIN: Our narration technique wasn't there from the start, though as mentioned, we did know we wanted to make a game that could create a meaningful experience of some sort. We also knew we didn't want to interrupt the play experience for any reason, which at first seemed to contradict the other goal – how can you deliver a story without using cutscenes or text, right? This eventually led to the narration.
It was only possible because of Logan. He's an actor in New York and is a longtime friend of Amir Rao our studio director and Darren Korb our audio director. If we didn't have such good access to voice talent, we never would have pursued something like this. But with Logan in our corner, we realized we had a means of creating atmosphere and player engagement and thematic meaning all through a voice. And it never needed to interrupt the play experience, so players could move through the game at their own pace.
As far as the narrator's thematic symbolism – he's very connected to the world and themes of the game. He's very motivated to tell this story of how the Bastion is being completed, as sort of an argument in favor of his desired outcome, and how everything will be all right in spite of the Calamity. You can tell he has a real nostalgia for the way the world used to be, and carries some deep regrets about what happened. This sense of overcoming regret is central to the themes of the game and is embodied in the narrator. It felt like rich territory to explore, and encompassed a set of feelings anyone of just about any age could relate to.
I created a lot of backstory for the game that was never intended to be included in the game itself, just so every sentence from this guy could sound like it's rich with subtext. There's something else lurking behind everything the narrator is saying.

POD: The world of Bastion seems incredibly vast, and the game hints at an incredibly intricate lore just beneath the surface. What was the biggest challenge you faced in properly conveying that scope in an arcade title?
KASAVIN: I think finding the right economy through the use of narration was important. Even though there's a lot of narration in Bastion, each sentence is meant to be very efficient.
From a story perspective I had to be careful not to overload too much information on the player, and recapitulate key points multiple times in a manner that didn't seem condescending. We also had to make sure as much as possible that the story's key points played out during moments where the player's attention wasn't being spread thin by heavy combat or anything like that.
There was a natural challenge on the writing side, to create a multifaceted world from scratch. This was one of my main interests on the project of course, so it's something I tackled very eagerly.
I was also very interested in using fiction to tie together disparate game systems, to make everything in the game feel cohesive. In the game, we have systems like the Distillery and the Shrine, which started off on a conceptual design level but didn't gain their identities within the gameworld until the design ideas were better formed. Finding opportunities to tie together lots of little gameplay details back to the fiction I think makes for a richer setting but also requires a detailed backstory to work from.

POD: Bastion is a thoroughly unique gaming experience. How closely does the end result resemble your original vision of what you wanted the game to be? Did you encounter any major challenges (or major inspirations) in development that significantly impacted the course the game ended up taking?
KASAVIN: In one sense, Bastion is very true to the original idea for the experience. It's very much the game we wanted it to be. Even the title "Bastion" happened very early on in the thinking about the project. But then, the game never started with a grand design document or anything like that, just the basic idea of an action RPG in which you build the world around you. The details all came about gradually.
The story of the game is very true to the original outline. Some of the details changed along the way, but it was outlined in order to support that. The central characters and the ending ended up just as we'd planned.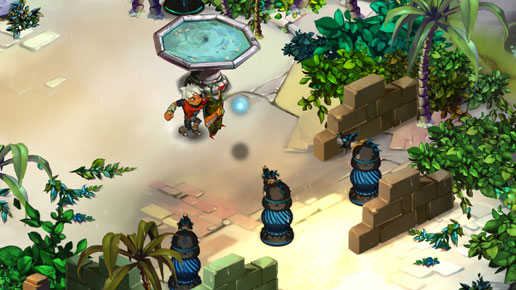 POD: Were there any unique opportunities that a PC release allowed that you couldn't have done just through an Xbox Live release? What was your main motivation for releasing cross-platform?
KASAVIN: The main motivation for releasing cross platform is to get the game in front of a wider audience. We would release the game on every platform under the sun if we could do that with no compromise to the quality of the game. As-is, there are significant resource costs in translating the game to different platforms and we're committed to making sure each version of the game is excellent. So we'd rather be on fewer platforms with a better game, if forced to choose.
Our Steam launch has gone really well so far. In some ways it's a lot easier to get a game out there on PC than it is on console. There are a lot of specific requirements to getting certified on console, and the certification process itself can be lengthy and costly. By comparison, getting our game on Steam was somewhat quicker and easier, but then we took extra time in order to make certain enhancements to the PC version in order to meet the standards of that audience. For example on PC we support higher resolution graphics than the Xbox 360 standard, and we also offer multiple control options and full keyboard remapping, stuff like that. We've also been able to support the game with regular updates, resolving any issues we hear about and adding little features as requested by players. As a team, we're platform-agnostic meaning we regularly play games on all kinds of different platforms.

POD: Bastion is enjoying a huge amount of critical acclaim. What's next in store for you guys? Do you plan to return to Caelondia in the future, or are there brand new things on your horizon?
KASAVIN: We're thankful for the response the game's been getting. It's too early to say where we'll go from here, especially since for the time being we're going to continue supporting the launch of Bastion. Beyond that, we have a lot of ideas, though if and when we make another game I think we would aim to recapture some of the key aspects of Bastion's experience – from technical things like a smooth frame rate and tight, responsive controls to aesthetic things like having a rich and interesting world that creates a sense of wonder and intrigue for players. And so long as I can help it, I'll keep doing my best to create great stories where the player can feel like a direct participant and not just a spectator. With Bastion, I think we succeeded overall in making a game that's a lot of fun to play from moment to moment, but offers a richer experience than just the moment-to-moment fun. I hope this turns out to be a hallmark of all our games.
POD: Thanks again for taking the time to share your thoughts on Bastion with us. We thoroughly enjoyed the game, and we're really looking forward to seeing more from you guys!
For anyone out there who for some reason hasn't played this game, you can (read: will) pick it up on either Xbox Live Arcade, or on the PC through Steam.
(Pixels or Death's Patrick Lindsey conducted and reproduced this interview. A special thank you goes out to the team at Supergiant Games for giving us this opportunity.)